Professional
BioMinF a new generation toothpaste
12-hour therapeutic fluoride

Fast remineralisation

Actively fights acids

Internally occludes exposed dentine tubes

Less than 600 ppm fluoride
Developed at Queen Mary University, London
BioMinF is a breakthrough innovation that could significantly reduce dental decay.
Prof. Hill
For fluoride to be beneficial for longer than the time of brushing, fluoride needs to be deposited and slowly released.
Prof Ten Cate
It's Brilliant,  Cleaner Longer,  I would definitely recommend,  I'm more confident with my mouth now.

Real customers
History
BioMinF is a result of research conducted at Queen Mary University of  London  and Imperial College London, into materials that can promote remineralisation, occlude tubules and provide superior protection against tooth decay.
Professor Hill and his distinguished team of experts have harnessed the unique delivery properties of bioglasses to deliver slow (long) release controlled levels of fluoride, phosphate and calcium. This step-change breakthrough in technology delivers significant performance gains over traditional toothpaste.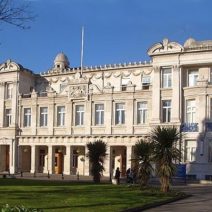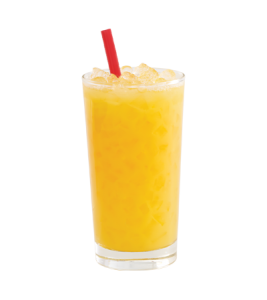 How does  BioMinF Armour for Teeth work?
BioMinF releases more fluoride when under acid attack!
BioMinF toothpaste is based on a smart bioactive material that adheres to the tooth's surface after brushing, slowly dissolving in saliva over a period of 8 to 12 hours. BioMinF works by releasing calcium Ca2+, phosphate PO43- and fluoride  F- ions and pushing the dynamic equilibrium between enamel and saliva to the right. This inhibits loss of apatite (demineralisation) and favours fluorapatite formation (remineralisation) preventing tooth decay and acid erosion.   When faced with an acidic challenge from bacteria metabolising sugars or drinking an acidic beverage, the bioglass dissolves quickly raising the pH to minimise the acid dissolution of the enamel apatite crystals.
Essentially BioMinF is designed to help re-establish lost apatite.
Retards demineralisation
BioMinF includes a slow-release fluoride which helps retard the demineralisation process to further protect the tooth from decay.
Traditional toothpaste rapidly loses fluoride
BioMinF up to 6X longer therapeutic fluoride
After rinsing or brushing with a fluoride dentifrice, fluoride levels in saliva and biofilms decrease sharply.  Over a period of 15 min to 2 hours the fluoride concentration in the oral cavity typically drops to 1– 3 ppm, and continues to decline to 0.5 to 0.02 ppm quite rapidly.P1
A constant supply of low levels of fluoride in biofilm/saliva/dental interface is considered beneficial in preventing dental caries p2.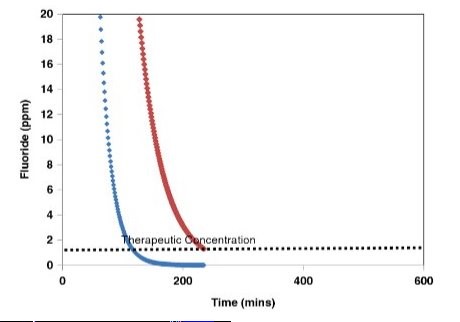 For 1450 ppm toothpaste the level to inhibit caries is reached in under 2 hours.  5,000 ppm is approx. 4 hours. In contract fluoride containing bio-active glas dissolves slowly releasing fluoride above the minimum dose.

Gillam D, Dentine Hypersensitivity: Advances in Diagnosis, Management, and Treatment 2015. p.169-170. 
BioMinF's slow release formula continues to supply fluoride for up to 12 hours to elevate fluoride levels in the oral cavity.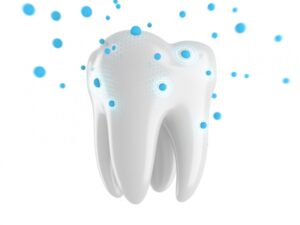 Faster remineralisation
Available fluoride significantly drives remineralisation rate
BioMinF shows a higher remineralisation rate than many retail remineralising kinds of toothpaste and dental products. Scientists believe that the slow release of fluoride, calcium and phosphate of BioMinF is the reason for the high remineralisation rate.
Tubule occlusion

With ageing gum lines recede and dentinal tubules become exposed. Up to 50% of BioMinF's particles are ground small enough to enter the exposed tubule.
The availability of fluoride, phosphate and calcium enables the formation of fluorapatite on top of and inside the appetite rich walls of the tubules. The fluorapatite has a higher resistance to acids than traditional solutions.
BioMinF helps block hydraulic conductance of the tubule by approximately 90%, significantly higher than traditional toothpaste.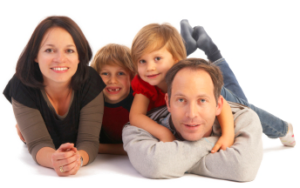 Family strength, children's level  fluoride (530 ppm) toothpaste with reduced risk of fluorosis
With less fluoride being washed away, BioMinF is able to have relatively lower fluoride levels of 530 ppm (when packed), almost 60% less than conventional fluoride toothpaste. Recommended for ages 6 to 106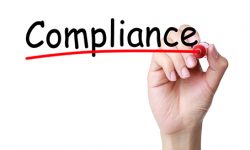 High patient compliance

Easy, Great tasting, Great Value
Patients can substitute BioMinF for their regular toothpaste.  For optimal results, we recommend not rinsing following brushing.
BioMinF's taste has received a lot of positive feedback from patients, dentists and clinicians in Australia at ADC2017 and in Europe.
Patient compliance is one of health care's greatest challenges. BioMinF has an RRP  AUD $11.95. At this price, BioMinF costs only marginally more than standard toothpaste. In comparison to leading demineralisation pastes and creams, BioMin is around 1/2 price.
Fillings that last a lifetime.
In the future fillings incorporating the technology within BioMin F will be available which will not only block cavities but fix the bacterial damage. See article:  Sunday Express
The BioMin scientific team
The BioMin scientific team includes a number of the world's leading dental researchers and authorities on BioGlass and tubule occlusion.
Professor Robert Hill
Director and Chief Scientific Officer

Biography
Professor Robert Hill, Director and Chief Scientific Officer, currently holds the Chair of Physical Sciences in the Dental Institute at Queen Mary University, London.
Formerly Professor of Biomaterials at Imperial College. He is an expert on bioactive glass and apatite chemistry. He was part of the Materials Group at LGC that won the Queens Award for Technological Achievement in 1984.
Papers: 250 +
Patents: 20 +
Dr David Gillam
Clinical Consultant & Non-executive Director
Biography
Also Senior Clinical Lecturer in Periodontology at Barts London School of Medicine and Dentistry (QMDI).
He has considerable expertise concerning Dentine Hypersensitivity and Periodontal Disease. He has broad industry experience with leading oral health companies.
He published over 50 papers and one of the first papers on the occlusion of dentine tubules using bioactive glass. In 2015 he was the editor of the book "Dentine Hypersensitivity".
Biography
Professor at Otto Schott Institute of Materials Research, University of Jena, Germany.
Jena is one of the leading centres for Glass Research in the World and Professor Brauer developed Fluorine containing bioglasses.
In 2015 Professor Brauer was awarded the Gottardi Prize of the International Commission of Glass.

Biography
Contributing Researcher, is a Lecturer in Dental Physical Sciences and is a Solid State NMR Spectrocopist at Queen Mary University, London and has used 31P and 19F NMR to follow Demineralisation and Remineralisation processes.
Author of more than 70 publications including a major scientific review of Halide Glasses and a paper on "Fluoride-containing bioactive glasses: effect of glass design and structure on degradation, pH and apatite formation in simulated body fluid."

Biography
Dr Bushby's Reader in Materials Director of SEMS -NPU Collaboration, Queen Mary, London.
Dr Bushby's research is centred on the micro- and nano-mechanics of materials and structures. He is a leading expert in the technique of nanoindentation for small-scale mechanical property measurement and contributes to ISO Standards working groups for instrumented indentation.

Biography
Contributing Researcher, holds a CSIC scholarship given to the top 1% of Chinese Students. Her Ph.D. is on Chloride Containing Bioactive Glasses.
Dr Chen is a co-inventor of BioMin's Chloride Bioactive Glass Patent, and was awarded the 2014 Margaret K B Day Scholarship Prize for Female PhD. students studying in Britain.

References
---
P1 ten Cate J M,  Contemporary perspective on the use of fluoride products in caries prevention.  British Dental Journal 214, 161 – 167
p2  Rošin-Grget, K; Peroš, K; Sutej, I; Bašić, K (Nov 2013). "The cariostatic mechanisms of fluoride.". Acta medica academica 42 (2): 179–88. doi:10.5644/ama2006-124 (2013)