BioMin orthodontic toothpaste for braces & aligners helps prevent and repair enamel damage
Braces can damage your teeth, the inability to easily brush and food becoming trapped increases the risk of decay. Research show that up to 96% of orthodontics patients end up with some form of decay (demineralisation) [ii].
Before you get braces use an orthodontic toothpaste like BioMin, to help prepare the enamel. BioMin can be used prior to, during and after orthodontics to help prevent white spots (decay areas) from forming and help repair any that may develop.
BioMin® : an important tool in your oral hygiene toolbox Dr Ariane Sampson, orthodontist. 
I recommend BioMin F to give my patients extra protection. By promoting a toothpaste like BioMin® F, which is really good for reducing the risk of white spot lesions, we finish up with a nicer result, and we don't have to take the braces off early due to poor oral hygiene. Using a toothpaste that's remineralising, like BioMin, is really useful for us to make sure that we provide the best quality results in the healthiest possible way. It's important to have this tool in your toolbox. Many children and young people find adult toothpastes too 'spicy', which makes them reluctant to transition to them. BioMin is milder, and they prefer the taste of it. This also applies to people with autism, who are acutely sensitive to taste. Since returning from the pandemic, when people have had less supervision and long intervals between visits, we have had to reassess our patients' oral hygiene and provide advice to reduce early signs of demineralisation. BioMin has really helped with that as we have been recommending it to improve the appearance of demineralisation and to prevent it developing in children who may have struggled with oral hygiene over this period. There's no point in embarking on orthodontic treatment if we are going to leave the teeth in a less healthy way than when we began. BioMin really helps with that. 
The British Dental Journal[i] recommends that before braces/orthodontics are applied, patients should have an extremely high standard of oral hygiene. It is essential that all carious (decay) lesions are repaired prior to treatments commencing.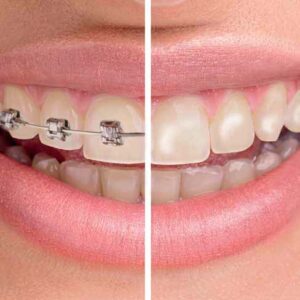 Up to 96% of Orthodontics can end up with white spots developing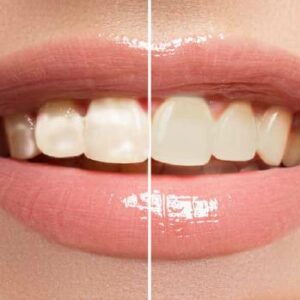 BioMin can help prevent and repair white spots.
Good news, there is a natural repair process (remineralisation) to repair orthodontic damage. However, it is a very slow process, with some studies suggesting only a 30% success rate and taking up to 6 years.[iii].
BioMin F orthodontic toothpaste drives the remineralisation process and can help repair white spots caused by braces with a noticeable improvement in months. BioMin's unique slow-release mechanism delivers the enamels building blocks of calcium and phosphate to repair the demineralised (damage) area. BioMin F which also has fluoride helps strengthen the enamel and make it more acid resistant and resistant to future enamel erosion.
BioMin F was developed by Professor Hill's team at Queen Mary University of London, delivering calcium and phosphate to the tooth to drive a high remineralisation rate. BioMin F is Australia's number 1 consumer rated Toothpaste and Health Product (ProductReview.com.au). BioMin C the fluoride free variant is the number 1 rated fluoride free toothpaste.
Use of braces can damage enamel causing white spots.
ProductReview.com.au reviews related to orthodontics and white spots.
Note: Everyone is different all users may not gain the same results.
[i] Travess et al, Orthodontics Part 6: Risks in Orthodontic treatment. British Dental Journal 2001 Vol 196
[ii] Chang HS, Walsh LJ, Freer TJ. Enamel demineralisation during orthodontic treatment. Aetiology and prevention. Aus Dent J 1997; 42: 322–327.
[iii] Garcia-Godoy, Maintaining the integrity of the enamel surface. JADA 2008:139
[iv]  Marwan Mouakeh, Academic Consultant &General Supervisor at Al-Hokail Polyclinic Academy Feb 2015