Apagard Premio alternative BioMin toothpaste.
BioMin C and BioMin F  are Apagard Premio alternative remineralising toothpaste. All products add back enamel / 'apatite' to the tooth's surface and can help repair early decay. In simple terms the main differences between BioMin toothpaste and Apagard Premio are the mechanisms by which they deliver apatite to the tooth's surface.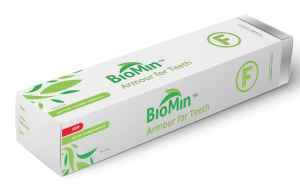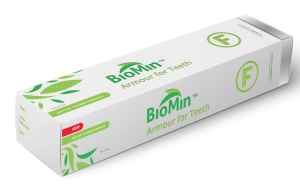 Performance comparison : Remineralisation BioMin F vs Apagard Premio toothpaste
A comparison measuring remineralisation rates was conducted in 2017, BioMin F's reminrate was 3.6 +/- 0.5  vs  Apagard Premio 3.4 +/- 0.52. source

BioMin
When you brush with BioMin C a thin coating of BioMin is placed on to the tooth's surface. This coating dissolves across the day delivering the essential minerals of calcium and phosphate and an acid neutralising hydroxyl ion.  The calcium and phosphate combine to form hydroxyapatite the analogous form of enamel which through the natural remineralisation process helps fill in the microscopic defects and repair early decay.
BioMin F benefits by also delivering fluoride to form fluorapatite which is 10 times more acid resistant than hydroxyapatite and by deemed scientists the preferred tooth's enamel mineral.
Apagard Premio
Apagard Premio contains hydroxyapatite in nano molecular form at a size of 2 microns. This hydroxyapatite helps fill the microscopic defects of the tooth's surface to help remineralise the enamel from early decay.
Subsurface remineralisation
BioMin and Apagard Premio both have the capability to remineralise at a subsurface level. No comparison between the two products is available or implied.
Treatment of sensitive teeth
BioMin and apagard are both sensitivity treatments. BioMin F's acid resistance delivers a significant advantage.
Key benefits Apagard Premio alternative BioMin F

Price :     BioMin F RRP $12.50 BioMin C RRP $13.50  vs Apagard Premio approx. $29.95  to $39.95.
Don't let price fool you as an indicator of performance.  BioMin has been priced to be affordable to a larger proportion of people.  Dental care can be expensive, with many people missing treatment due to cost. We have made a socially responsible decision to make BioMin a more affordable treatment.

BioMin F creates a 10 times more acid resistant enamel.
As discussed above Apagard Premio and BioMin C repair and remineralise the tooth with hydroxyapatite an analogous version of enamel. BioMin F includes fluoride which forms fluorapatite which is 10 times more acid resistant the hydroxyapatite.

Local Availability.   
BioMin F is locally supplied by LAZARK Medical for online orders and is also available at select pharmacies. 94% of orders are dispatched from our Sydney warehouse within 24 hours order placement. Apagard Premio is not licenced for sales in Australia
ProductReview.com.au reviews. Please note all teeth are different and results may not replicate in all
Join thousands of others and give BioMin F or BioMin C a try.  Approved by the Oral Health Foundation for remineralisation and rated Australia's No.1 Dental Care Product by ProductReview.com.au (BioMin F June 2019).