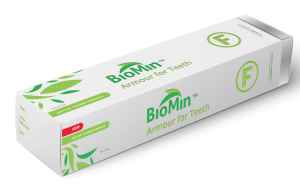 BioMin F is a high-performance remineralising & whitening toothpaste, that has rapidly become ProductReview.com.au's No.1 rated "Dental Care Product" and No. 1 rated "Toothpaste".  BioMin helps create a protective coating on the teeth and gradually helps  whiten and brighten the teeth.
A word of warning! BioMin is a high performance toothpaste, once you use BioMin you may never consider using regular supermarket toothpaste again.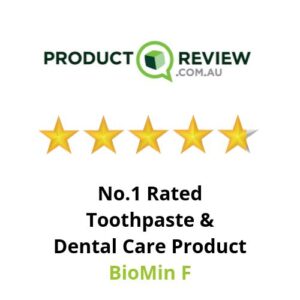 What is BioMin F
BioMin F is a high-performance remineralising & whitening toothpaste prescribed by many dentists to help replace minerals lost to early decay (non cavitated). As minerals are replaced BioMin F users report their teeth becoming gradually whiter and brighter some a little whilst some OMG! (see below for reviews). BioMin F can also help with transparent teeth and the repair of white spot lesions ~.
BioMin remineralising & whitening toothpaste
Most whitening products work by either using an abrasive to help remove surface stains or using a peroxide / carbamide agent to bleach the tooth. BioMin remineralising & whitening toothpaste is different! The whitening benefit gained from using BioMin is attributed to the remineralisation process.
When brushing BioMin coats the tooth's surface, this coating adds a gloss to the tooth. As the coating slowly dissolves it delivers essential minerals to help drive the tooth's natural remineralisation and repair process. This process also makes the tooth 10X more acid resistant and more resistant to staining.
How to use
Please follow the instructions for the best results.  Brush for at least 2 mins, swirl for 30 seconds, spit out and DON'T rinse. Leave for 15 to 20 mins before eating and drinking.
Some customers see improvement in a short period, other may take a little longer.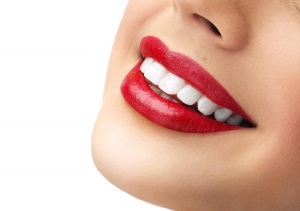 Can I combine with activated charcoal?
We do not recommend using activated charcoal! Numerous clinical papers show that charcoal is too rough and can scratch and damage the enamel. Also activated charcoal absorbs fluoride, fluoride is the key 'active ingredient' in dental care. Removing fluoride increases decay risk considerably. If you are anti-fluoride then try our fluoride free variant BioMin C.
How is BioMin different to regular toothpaste?
Two significant differences:
Regular toothpaste only has fluoride as an active ingredient. To replace minerals, i.e. remineralise teeth you need calcium and phosphate as well. Saliva intrinsically does not have enough readily available calcium and phosphate 1 – as such remineralisation is relatively low.
Fluoride normally drops below a therapeutic (beneficial) level in about 90 mins after brushing 2. BioMin F has the world's first extended release mechanism. It means BioMin uses 60% less fluoride (good thing) and more efficiently. Therapeutic levels of fluoride can be available for up to 12 hours. BioMin keeps on working!
BioMin took 10 years of research and 8 PhDs in its development. No, not all toothpaste is the same. That's why many dentists and specialists are making the change to BioMin.
Can I combine with peroxide treatments?
BioMin can be used pre and post whitening treatments to help strengthen enamel and also help replace minerals lost to whitening treatments. BioMin helps create an acid resistant coating on the enamel known as fluorapatite, this can help the tooth be more resistant to future staining.
BioMin remineralising and whitening toothpaste reviews.
These reviews are a sample of the responses customers have provided after using BioMin F remineralising and whitening toothpaste. Everyobody has different teeth, dental health and diet as such performance between users can vary.  We ask you use BioMin as per it's instructions and wait a month before judging its performance, you might be pleasantly surprised.
Other people noticed too when I smiled & asked what I had done differently.
The surface of my teeth felt cleaner than ever before & the best part was noticing my teeth looking whiter & less yellowed. Other people noticed too when I smiled & asked what I had done differently. I told them I was using BioMinF toothpaste, so expect a few more new customers! Jessica: Sept 2018
My teeth are whiter and I feel that my teeth are getting better. It's all thanks for Biomin F toothpaste! The other benefit I found was that I had some hard plaque that fell out while using the toothpaste which was amazing considering the other toothpaste brands never did anything close to that. Also since I got it and raved on to the family about it my mum has bought the toothpaste and she really loves it.  I recommend this product to anyone that is sick of the major brands that dentists tell you that you have to use. Alisha Nov 16 2018
Teeth are becoming whiter and less transparent
I've been using this amazing toothpaste for a few weeks and teeth are becoming whiter and less transparent. Billie: Mar 2018
Visible Results!
I started using Biomin F as I saw signs of enamel loss in my teeth due to acidity. After using Biomin for a month, my teeth look whiter and feel stronger. Definitely going to order more! Kitty Kat Sep 2019
Toothpaste to smile about
Before I would talk with my mouth as closed as possible, but now I open wide, smile openly and show my teeth proudly. After a few months of using this toothpaste, my teeth were noticeably whiter, brighter and stronger.  Of course, I had to use it consistently for 2 months to notice a real difference.
Wish I found this toothpaste earlier, as it would of saved me from some cavities and preserved my natural beauty.  Still noticing minor improvements to my teeth, even after 3 months, which is surprising. People thought I got dental works but all I did was brush my teeth twice a day with BioMin and cut out coffee, cigarettes and red wine. I even had my mum call me a 'pretty boy' for the first time in 10 years, which is amazing.
I do believe BioMin toothpaste is the real deal. I've never used anything as good on my teeth as BioMin toothpaste. Who would think that one tube of paste can bring so much happiness. Will keep brushing my teeth with BioMin. Kung Foo Chicken Oct 15 2018
Biomin F is fantastic, has changed my smile, and now I can't stop smiling!
My teeth had always been a dull yellow/grayish for the longest time. When I went to my dentist, he informed me that I was losing enamel. I didn't want to do veneers because I still had all my teeth. After doing my research about Novamin, I by chance found out about Biomin F. I did more research and read many reviews from here. I decided to try Biomin but wanted to go full throttle in my quest for renewing my teeth, and had my teeth bleached with the KOR whitening system.
The bottom part of my teeth came out great but the upper parts were still darker due to the dentin being exposed. The same day I finished the KOR I started using Biomin. I brushed in the morning and the night. I always spit it out and didn't eat or drink for at least half an hour in order to make sure that the Biomin was activated with the contact of my saliva. Lo and behold, my teeth became brighter. The Biomin bonded to my teeth and now it feels like they have a sheen of glass on them. My teeth feel stronger, look brighter, the color is uniform and my friends who didn't know anything about what I had done are saying "Look at your teeth! What did you do?!"
I cannot stop smiling. I will now buy Biomin for my family and friends!  Sep 2019