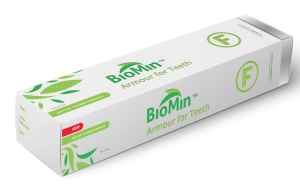 GC Tooth Mousse
™

 Plus alternative

BioMin

™

 F

.      GC Tooth Mousse

™

 alternative 

BioMin™ C.

GC Tooth Mousse Plus alternative BioMin F is Australia's No.1 consumer rated Dental Care Product  A 1-step toothpaste that helps remineralise & repair enamel and white spot lesions, repair sensitive teeth and help reverse damage from whitening treatments. BioMin delivers bioavailable calcium, phosphate and fluoride whilst helping to neutralise acid. BioMin F (fluoridated) $12.50 or BioMin C (Fluoride Free) $13.50  for 100 grams.   Learn about BioMin F & C

* GC Tooth Mousse & GC Tooth Mousse Plus are registered trademarks of GC Europe N.V
A key difference between BioMin F and GC Tooth Mousse Plus?
BioMin F and Tooth Mousse Plus TM both contain bioavailable calcium, phosphate and fluoride in differing quantities. A key difference is the delivery mechanism, GC Tooth Mousse TM uses a milk protein, called RecaldentTM whilst BioMin F uses bioglass technology (soluble silicate used in dentistry for 30 years) which needs 40% less fluoride and maintains therapeutic levels for up to 12 hours.
Remineralisation in a tube. Amazing product
I've been a dentist for 20 years and I'm happy to say I've found a product that my whole family is benefiting from using. With its ease of use, pleasant taste and incredible remineralisation ability it's been nothing but positive. Dr Emma. Sept  2019
Dentist was amazed. 
I went to the dentist, and my latest x-rays showed my teeth had remineralised where there were possible concerns, which hasn't happened in years for me! Even the dentist was amazed. It's a subtle minty flavor and leaves your mouth feeling clean and fresh. I have even got my partner on board and loves it too. I would highly recommend BioMin F
Delicious toothpaste – recommended by NZ orthodontist for kids with braces!
My kids love the taste and it has strengthened my son's teeth while wearing braces. Adults in the house figured that it won't hurt using it for ageing teeth either. Yes, it'smore expensive than supermarket brands – but it is worth spending the extra dollars. Karen Sep 2018
Best toothpaste and dentist impressed!
This toothpaste has proven to be effective with my dentist commenting that the areas I previously had to worry about not being such a concern anymore – all since changing to BioMin F. It is mild in taste, so it is fine not to wash out. Love that it works long after you brush. Highly recommend!!!  Chloe B 2019
Excellent, Protective, Repairing Science-backed toothpaste
Does exactly what it promises – reverses early decay, remineralise and repair enamel, neutralise acids and strengthen teeth. Science-backed. Forget Colgate & other fancy brands – BioMinF is the real deal & worth every dollar. Karl May 20, 2018 
Perfect for tank water
Since moving to a house with tank water we found that our children's teeth health was suffering. Biomin has restored the health of our children's teeth. We have been using this toothpaste for a year and would recommend it to anyone who does not have access to town water. Jan 2019
Helped after radiation treatment
An amazing product. It has helped my husband's teeth after his radiation treatment.  I couldn't be happier with this product. I bought the one with fluoride as we live on a property and only have rainwater. Thank you again. Maryanne: Aug 2018
This product has worked very well for me I advise anyone with enamel or decay issues to give it a go
I've had issues with decay, unexplainable acidity and enamel loss for a few years. I've tried many different dentists, toothpastes natural and chemical based. Also tried rinses, coconut oil and extra calcium in my diet with no fix. Until I found biomin on eBay. My problem isn't cured but it has definitely helped with the amount of decay and discolouring and transparency of my teeth after using it day and night for about a month. Some of the decay has changed from dark orange to light yellow/white and gums look healthier also. It has helped with receding of my gums. . I'm planning on continued use of this product to see if it helps with more time. No dentist has been able to figure out why my teeth are wearing away so this has been a god send to help recover small amounts of damage! I've no side effects for using this product  Hayley 2019
Great product. Whole family uses it.
My dentist is a big fan of remineralising paste so to have this combined into our daily tooth regime is a great plus. Easy to remember to use to add the extra protection to our teeth. Susan 2019
The future of toothpaste!
My mum told me about this toothpaste after hearing its raving reviews. Having had numerous expensive trips to the dentist, I was eager to try this, to see if it would help my teeth issues. I have been using this toothpaste for over 2 years and have seen great improvement in my teeth cleanliness, breath, and overall teeth health. I would recommend this product to anybody and I will never buy regular toothpaste again!
Hopeful
My teeth are feeling stronger (I have severe enamel loss and breaking at tips of bottom front teeth). Brown patches appear to be shrinking (only on first tube so this is after only a couple of weeks).  Joy 2019
Effective & pleasant to use
I like the science behind this toothpaste. I'm lucky enough not to have had any cavities but the dentist had started to comment about shadows that were starting to look like the beginning of decay – since using BioMinF, I've been to the dentist twice with no comments or suggestions to have x-rays & last visit she said that my teeth were looking great 
 My teeth seem to feel cleaner too vs. when I used a well-known brand.  TJO Nov 08, 2018
Definitely noticed a difference
After using up my first tube of Biomin I definitely noticed the superficial surface chip of enamel on one of my front teeth was less noticeable. I assumed this was because the exposed bit of tooth had been strengthened and therefore wasn't so much of a contrast in texture to the rest of the tooth. That is why I will keep using!  Jess T Mar 05, 2018
Very good toothpaste
I have some small chips on my teeth due to an overbite but found this toothpaste has lessened the chip. My teeth feel stronger and appear whiter since using this toothpaste. I have not found a supermarket brand to compare. Andrew  Mar 18, 2018 
Best toothpaste for the whole family!
We started using the Biomin toothpaste a few months ago as it was recommended to us for our two sons. Our eldest son who is 10 had reoccurring stains on his two front teeth that became very dark in between dentist visits. He was very self-conscious and affected the way he smiled. Since using Biomin 6 months ago, the stains haven't returned in fact our sons' teeth are whiter than they have been for years. Our younger son likes it as it is mild enough for him (other minty pastes have been too strong and uncomfortable). My husband and I use Biomin now. Mary Dec 11, 2017
For the whole family
Finally, I found a toothpaste that works for all members of my family. All solutions in one tube: cleaner, stronger, healthier, remineralised, repaired, protected. I would definitely be recommending BioMin: Aksana Dec 2017
BioMin for orthodontics, remineralisation and white spots.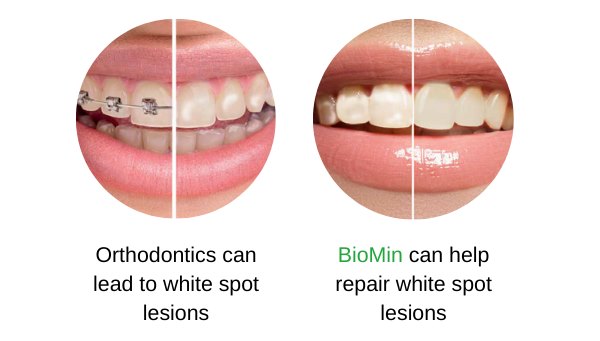 BioMin FTM and GC Tooth Mousse PlusTM are both fluoridated remineralising agents, that are used in dental applications. A 2019 clinical paper  evaluated the aesthetic  improvement of white spot lesions (WSL).  Both products were shown to remineralise the enamel caries (decay) and showed improvements in colour change and fluorescence.  J Clin Exp Dent. 2019;11(9):e776-82. 
BioMin a remineralising agent.
BioMinF toothpaste showed a substantial potential to promote remineralization of demineralized human enamel. Farooq et al
BioMin F paste can be considered an effective remineralizing agent for white spot Lesions. BioMin F was capable of remineralizing the sub-surface enamel lesion efficiently… Bakry et al,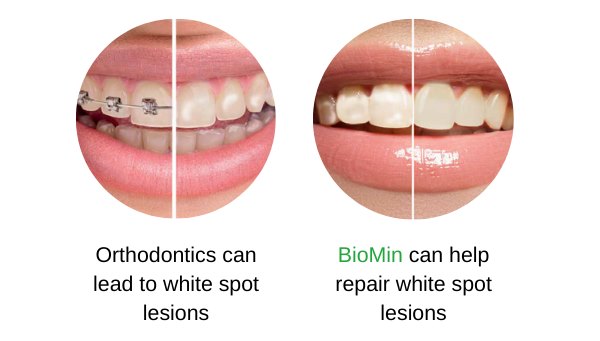 BioMin for orthodontics, remineralisation and white spots.
BioMin FTM and GC Tooth Mousse PlusTM are both fluoridated remineralising agents, that are used in dental applications. A 2019 clinical paper  evaluated the aesthetic  improvement of white spot lesions (WSL).  Both products were shown to remineralise the enamel caries (decay) and showed improvements in colour change and fluorescence.  J Clin Exp Dent. 2019;11(9):e776-82. 

Price :     BioMin F RRP $12.50 for a 100 grams.
Don't let price fool you as an indicator of performance, BioMin has been priced to be affordable to more people. When you order 4 or more tubes online we also provide free shipping in Australia.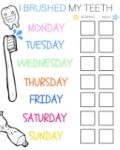 Compliance and Ease of use:      BioMin becomes your 1 step toothpaste
BioMin becomes your twice a day toothpaste, no extra steps.  Simply brush for 2 mins twice per day, swirl for 30 sec, spit, don't rinse and your good to go!

Controlled release of fluoride means less fluoride is needed!
We are pro fluoride. We also believe in using fluoride more efficiently.  BioMin's slow release formula only needs 530 ppm of fluoride to be effective. BioMin C is also available for those not wanting fluoride. (We recommend BioMin F for better performance).

Vegan friendly, Gluten Free and Halal certified.     
BioMin uses a mineral process, it does not contain animal products. BioMin does not contain gluten and is Halal certified. You can follow the links to see the ingredients list for BioMin F and BioMin C, if your are allergic to any ingredients please do not use.
Join thousands of others and give BioMin F or BioMin C a try,  you might be pleasantly surprised.
Recaldent is a registered trademark sold under licence.