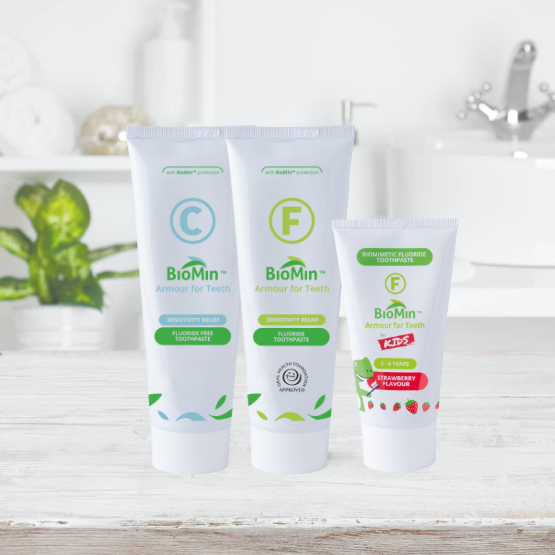 GC Tooth Mousse
™

 Plus alternative

BioMin

™

F 
GC Tooth Mousse
™

Plus alternative BioMin F for Kids

Strawberry

.
GC Tooth Mousse
™

 alternative 

BioMin™ C. (Fluoride Free)

GC Tooth Mousse Plus alternative BioMin F, is ProductReview.com.au's  No.1 rated Toothpaste , Dental Care Product, and Health Product and is approved by the Oral Health Foundation for remineralisation and dentine hypersensitivity. Developed over 10 years at Queen Mary Uni (London), BioMin can be used to help treat: early decay / demineralisation / enamel wear, hyper mineralised enamel , white spot lesions, transparency and dentine hypersensitivity. BioMin can also be used pre, during and post orthodontics and whitening to help reduce / repair demineralisation.   For ages 3+ (can spit out excess)
A key difference:
BioMin F and Tooth Mousse Plus both deliver calcium, phosphate & fluoride to the tooth, BioMin uses a mineral based (vegan) carrier technology and benefits from being able to control the fluoride release.
4 Advantages of BioMin over Mousse products
 Ease of use : BioMin becomes your everyday toothpaste no more extra steps.
Cost effective – Only $12.50 / $13.50 per 100-gram tube
 Vegan Friendly – no animal products used or animal testing. ie Dairy Free.
 BioMin can control fluoride release for extended performance
BioMin for orthodontics, remineralisation and white spots.
BioMin FTM and GC Tooth Mousse PlusTM are both fluoridated remineralising agents, that are used in dental applications. A 2019 clinical paper  evaluated the aesthetic  improvement of white spot lesions (WSL).  Both products were shown to remineralise the enamel caries (decay) and showed improvements in colour change and fluorescence.  J Clin Exp Dent. 2019;11(9):e776-82.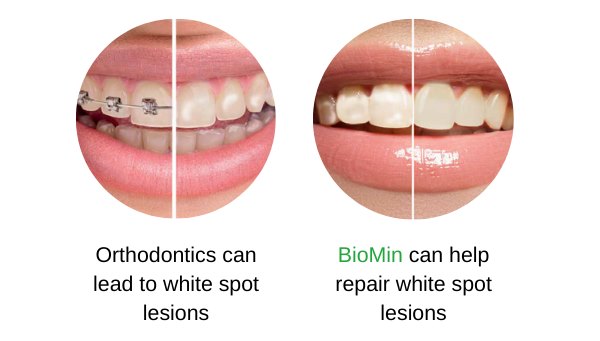 BioMin a remineralising agent.
BioMinF toothpaste showed a substantial potential to promote remineralization of demineralized human enamel. Farooq et al
BioMin F paste can be considered an effective remineralizing agent for white spot Lesions. BioMin F was capable of remineralizing the sub-surface enamel lesion efficiently… Bakry et al,

 
Dr Tony Smith: now recommends BioMin for the treatment of sensitive teeth.
Price

Don't let price fool you as an indicator of performance, BioMin has been priced to be affordable to more people

Compliance & Ease of use

BioMin becomes your twice a day toothpaste, no extra steps.  Simply brush for 2 mins twice per day, swirl for 30 sec, spit, don't rinse and your good to go!

BioMin needs less fluoride

We are pro fluoride. We also believe in using fluoride more efficiently.  BioMin's slow-release formula only needs 530 ppm of fluoride to be effective. BioMin C is also available for those not wanting fluoride.
Join thousands of others and give BioMin F or BioMin C a try,  you might be pleasantly surprised.
* GC Tooth Mousse & GC Tooth Mousse Plus are registered trademarks of GC Europe N.V
Recaldent is a registered trademark sold under licence.