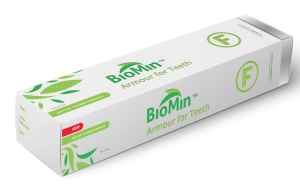 GC Tooth Mousse
™

 Plus alternative

BioMin

™

F 
GC Tooth Mousse
™

Plus alternative BioMin F for Kids

Strawberry

.
GC Tooth Mousse
™

 alternative 

BioMin™ C. (Fluoride Free)

GC Tooth Mousse Plus alternative BioMin F is ProductReview.com.au  No.1 consumer rated Dental Care Product  A 1-step toothpaste that helps remineralise & repair enamel, white spot lesions, and treat sensitive teeth. BioMin is a toothpaste, no more extra steps required.

* GC Tooth Mousse & GC Tooth Mousse Plus are registered trademarks of GC Europe N.V
Take the BioMin Challenge
Try BioMin BioMin today if you are not 100% happy, we will refund your tube.
Read our reviews we are pretty confident you will be!
Terms and Conditions
Refund excludes postage costs, calculated at $8 on single, 4 or more packs.
Email Contact_us@LAZARK.com.au  when placing your order, and say you are taking the BioMin Challenge.
If you purchased more than 1 tube and would like a refund for all tubes purchased  you must return the unused tubes (at your cost) in a merchantable state.
Refunds within 60 days of purchase only.
Offer expires 1/2/2021
Available to orders undertaken on BioMinToothpaste.com.au only.
3 Advantages of BioMin over Mousse products
 BioMin is a toothpaste no more extra steps of applying a mousse after brushing.
Cost effective – Only $12.50 / $13.50  per 100 gram tube (A 1 month supply)
 Vegan Friendly – no animal products used or animal testing. ie Dairy Free.
A key difference between BioMin F and GC Tooth Mousse Plus?
BioMin F and Tooth Mousse Plus TM both contain bioavailable calcium, phosphate and fluoride. A key difference is the delivery mechanism, GC Tooth Mousse TM uses a milk protein, called RecaldentTM whilst BioMin F uses a newer mineral technology (ie Vegan friendly).
Award winning , accredited, consumer rated No.1
BioMin F has rapidly grown to be  ProductReview.com.au's No.1 Dental Care Product & toothpaste with BioMin C  ProductReview.com.au's  No.2 consumer rated toothpaste.   Read the reviews and see how BioMin is changing our customers lives*.  BioMin comes from 10 years of research at the prestigious Queen Mary University of London, is accredited by the "Oral Health Foundation" for "remineralisation and sensitive teeth".                         * results may vary between consumers.
BioMin for orthodontics, remineralisation and white spots.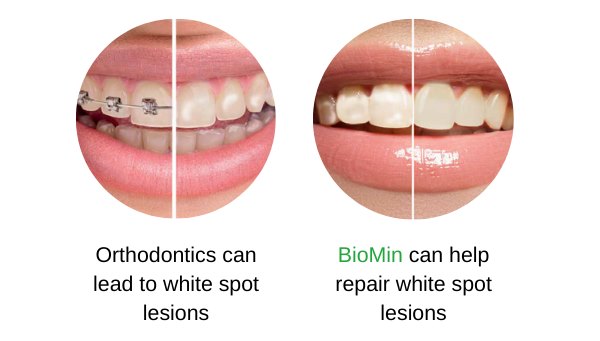 BioMin FTM and GC Tooth Mousse PlusTM are both fluoridated remineralising agents, that are used in dental applications. A 2019 clinical paper  evaluated the aesthetic  improvement of white spot lesions (WSL).  Both products were shown to remineralise the enamel caries (decay) and showed improvements in colour change and fluorescence.  J Clin Exp Dent. 2019;11(9):e776-82. 
BioMin a remineralising agent.
BioMinF toothpaste showed a substantial potential to promote remineralization of demineralized human enamel. Farooq et al
BioMin F paste can be considered an effective remineralizing agent for white spot Lesions. BioMin F was capable of remineralizing the sub-surface enamel lesion efficiently… Bakry et al,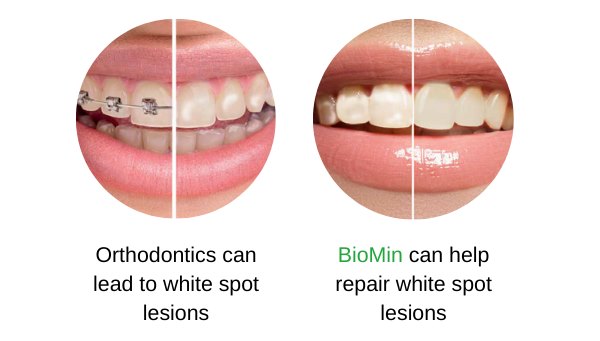 Price :     BioMin F RRP $12.50 for a 100 grams.
Don't let price fool you as an indicator of performance, BioMin has been priced to be affordable to more people. When you order 4 or more tubes online we also provide free shipping in Australia.
Compliance and Ease of use:      BioMin becomes your 1 step toothpaste
BioMin becomes your twice a day toothpaste, no extra steps.  Simply brush for 2 mins twice per day, swirl for 30 sec, spit, don't rinse and your good to go!

Controlled release of fluoride means less fluoride is needed!
We are pro fluoride. We also believe in using fluoride more efficiently.  BioMin's slow release formula only needs 530 ppm of fluoride to be effective. BioMin C is also available for those not wanting fluoride. (We recommend BioMin F for better performance).

BioMin toothpaste is Vegan friendly, Gluten Free and Halal certified.     
BioMin uses a mineral process, it does not contain animal products. BioMin does not contain gluten and is Halal certified. You can follow the links to see the ingredients list for BioMin F and BioMin C, if your are allergic to any ingredients please do not use.
Join thousands of others and give BioMin F or BioMin C a try,  you might be pleasantly surprised.
Recaldent is a registered trademark sold under licence.